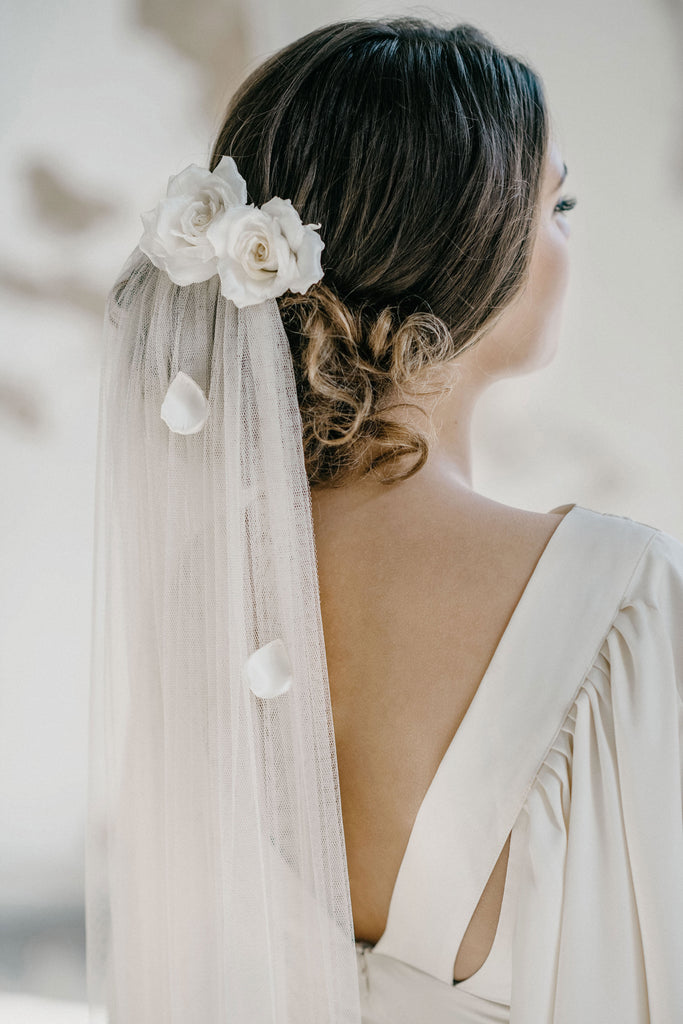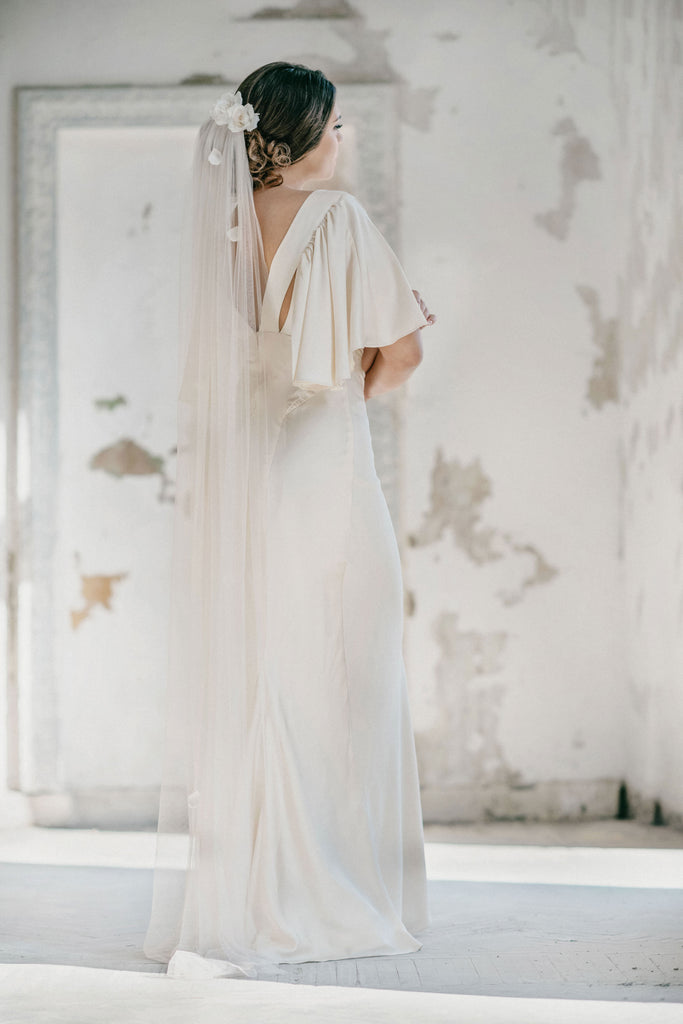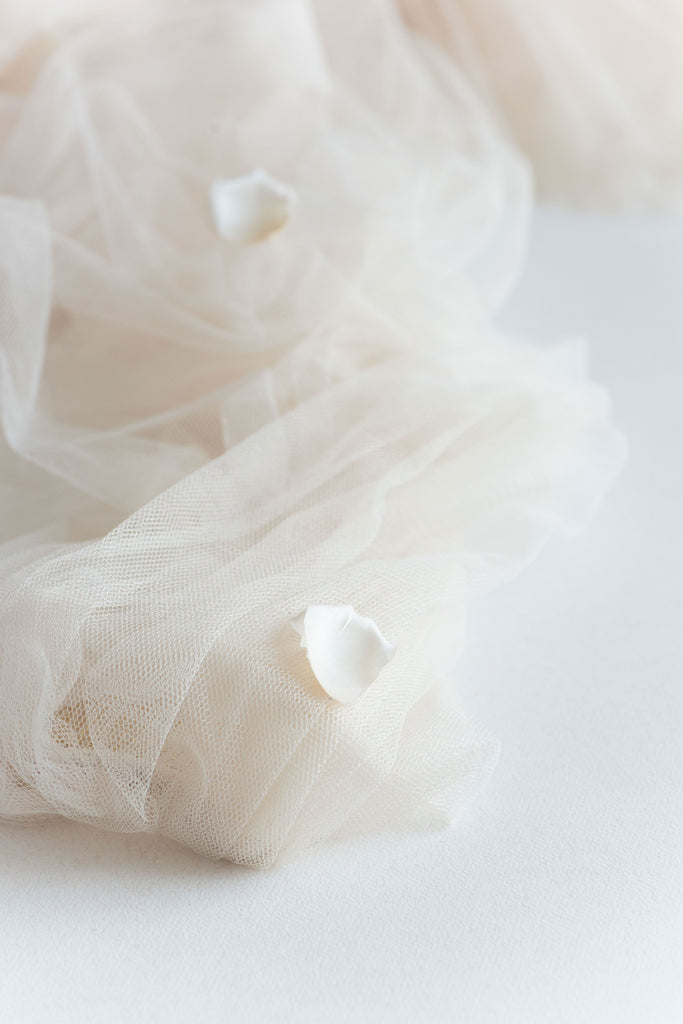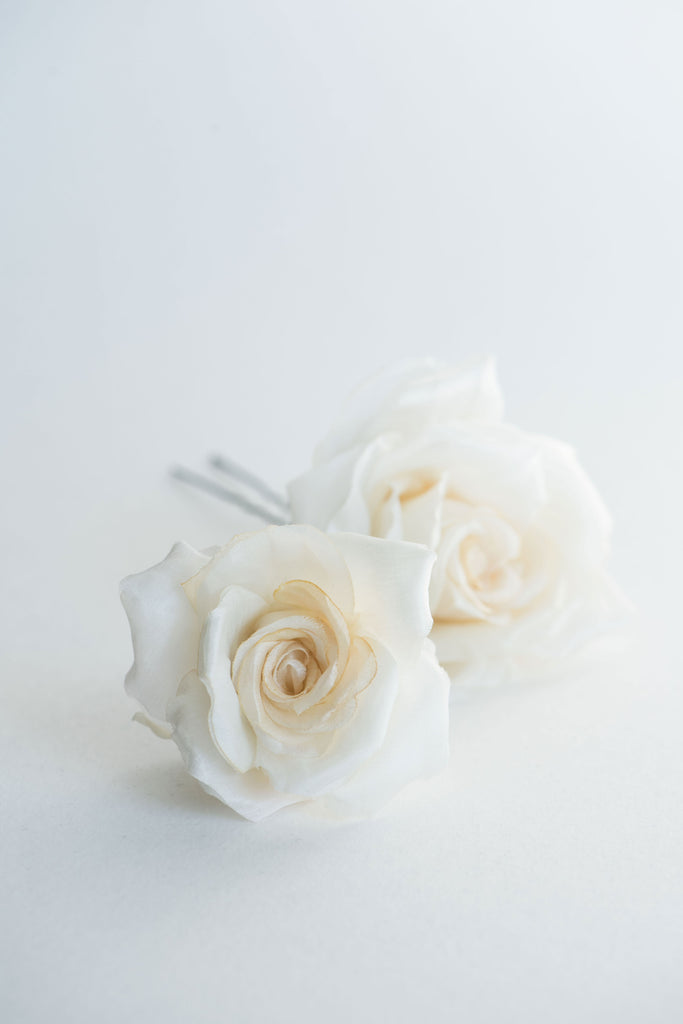 €64.00
€0.00
Bridal petal veil and rose flowers hair pin set - ILZE
This feminine veil features delicate petals from silk, scattered throughout the veil and beautiful realistic true silk rose flowers hair pin. The petals more concentrated at the top of the veil and then scatter to nothing at the bottom of the veil. Flowers attached on hair pins and can be used with or without veil.

The veil made from softest English tulle. The soft English tulle is a polyester blend which gives it its soft drape and handle. It's also very crease resistant. It has the same hexagonal construction as silk tulle, but without the price.

Every detail were entirely handmade: the petals are cut out of silk and colored with dyes and later molded using millinery tools.

Measures: veil shown in Chapel length. Wide 60 inches (150 cm).

Rose flowers - smaller: wide 2.36 inches (6 cm), high 2 inches (5 cm) and bigger: wide 2.75 inches (7 cm), high 2.60 inches (6.5 cm).
- Color: can be white, ivory, soft white, beige (in photo veil in beige, petals and roses are ivory with cream and beige shadows), black or any custom color.
Personalisation:
- You can choose silver or gold metal comb for veil;
- You can choose petal and rose flowers color;
- You can choose flower hair pin color: bronze, brown or black

Used materials: soft English tulle, 5,8 cm metal combs (you can leave a note which color you prefer: silver or gold).
The end of the veil is cut into a raw gentle curve.
Packaging: carefully packed for safe shipping.
Ready to ship in 12 business days.

Standard wedding veil lengths:

Elbow length - 25" (50 c).
Waist length - 30" (76 cm).
Fingertip length - 42" (107 cm).
Ballet length - 55" (140 cm).
Waltz length - 65" (165 cm).
Floor length - 72" (183 cm).
Chapel length - 85" (215 cm).
Cathedral length - 108" (274 cm).
Royal length - 118" (300 cm).
You can also  provide your own measurements.

- IMPORTANT: This veil fabric may not be suitable for you if your wedding dress is embellished with rhinestones, edged lace appliques, as the fabric is so lightweight it can catch on the little claws holding the edges of the stones in place. If your dress is embellished with beads and sequins it should be fine, as these generally have smooth edges.