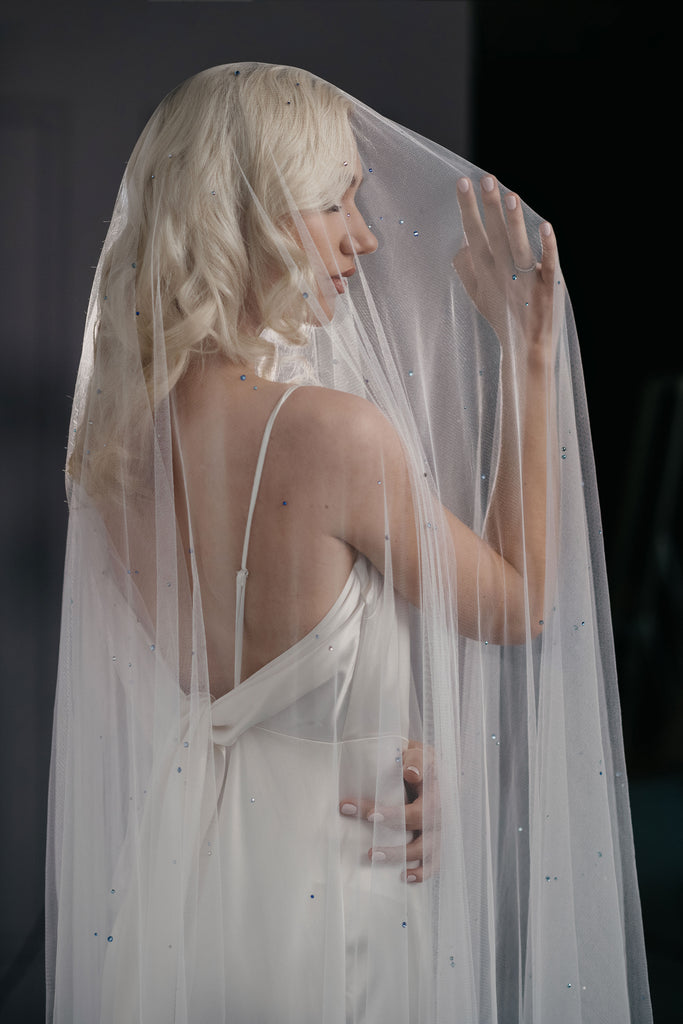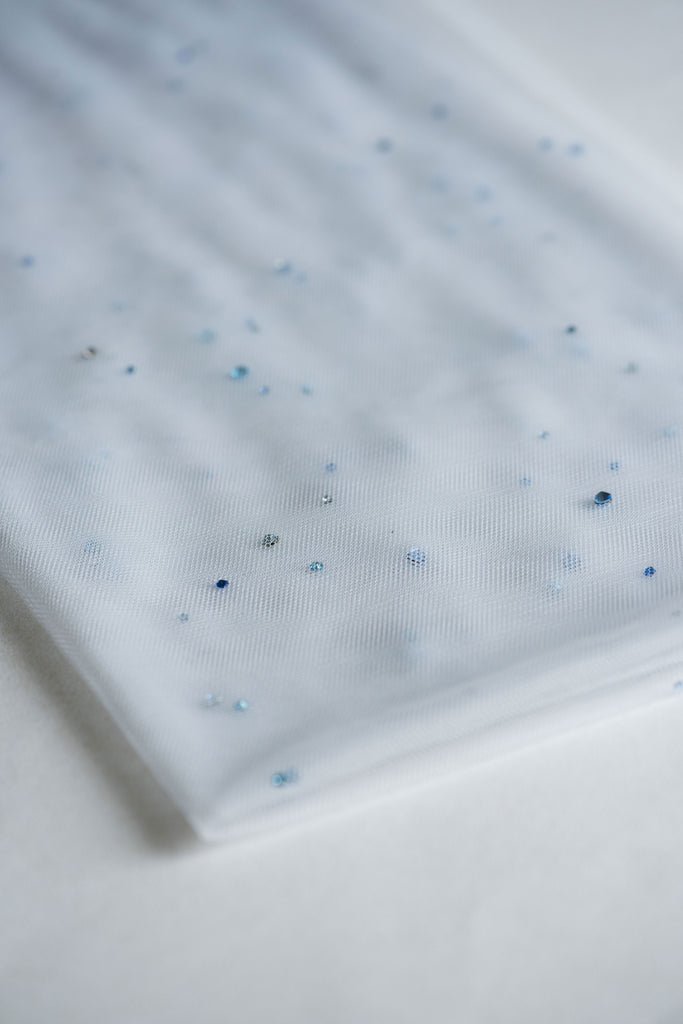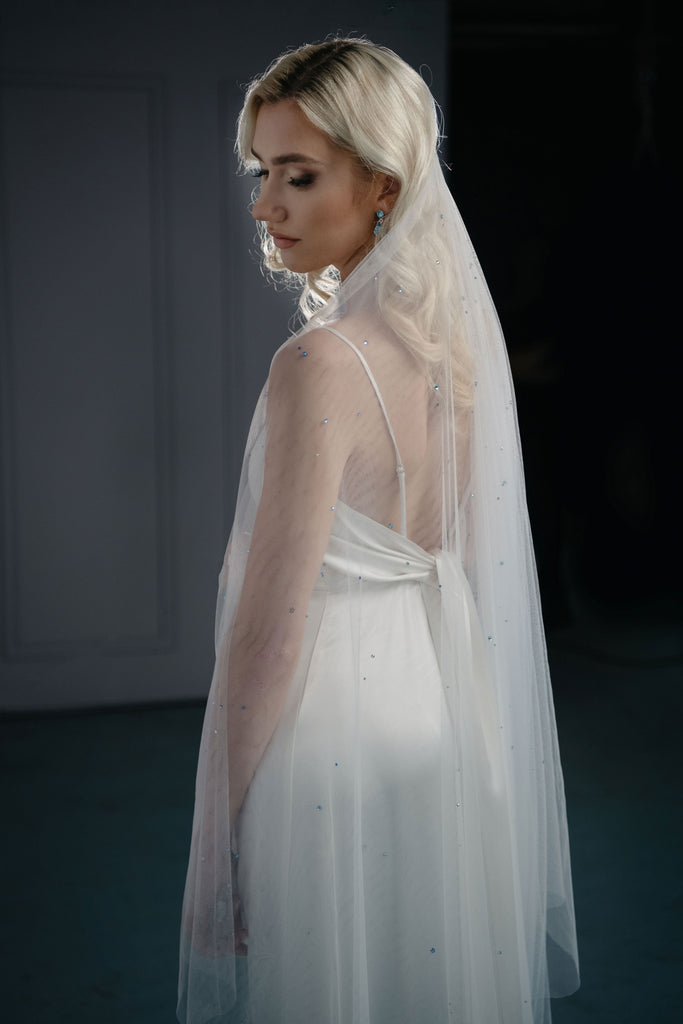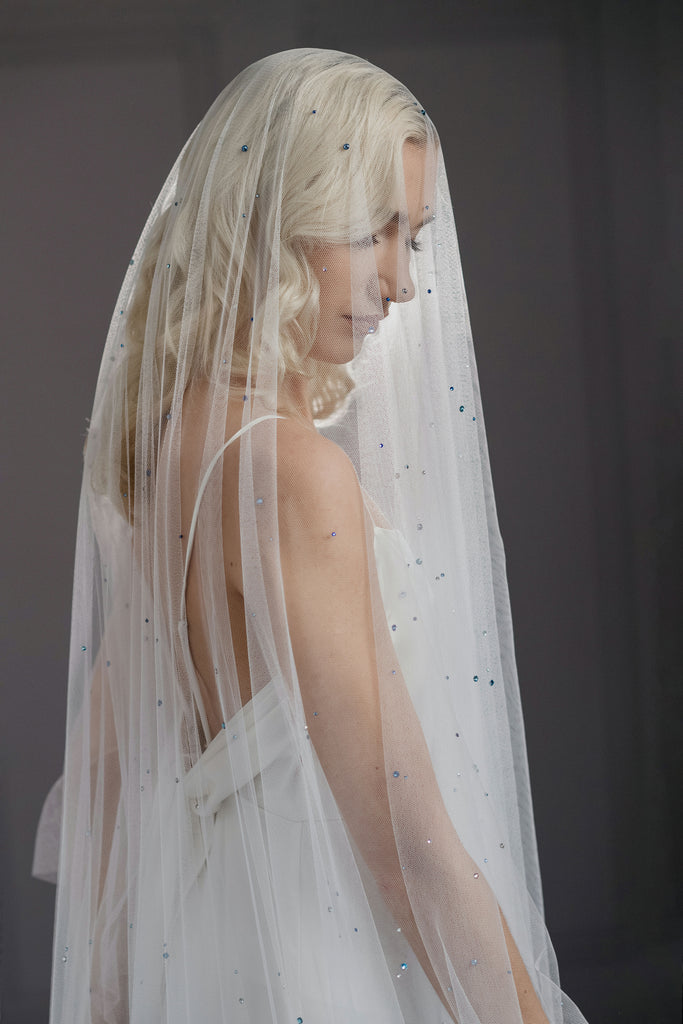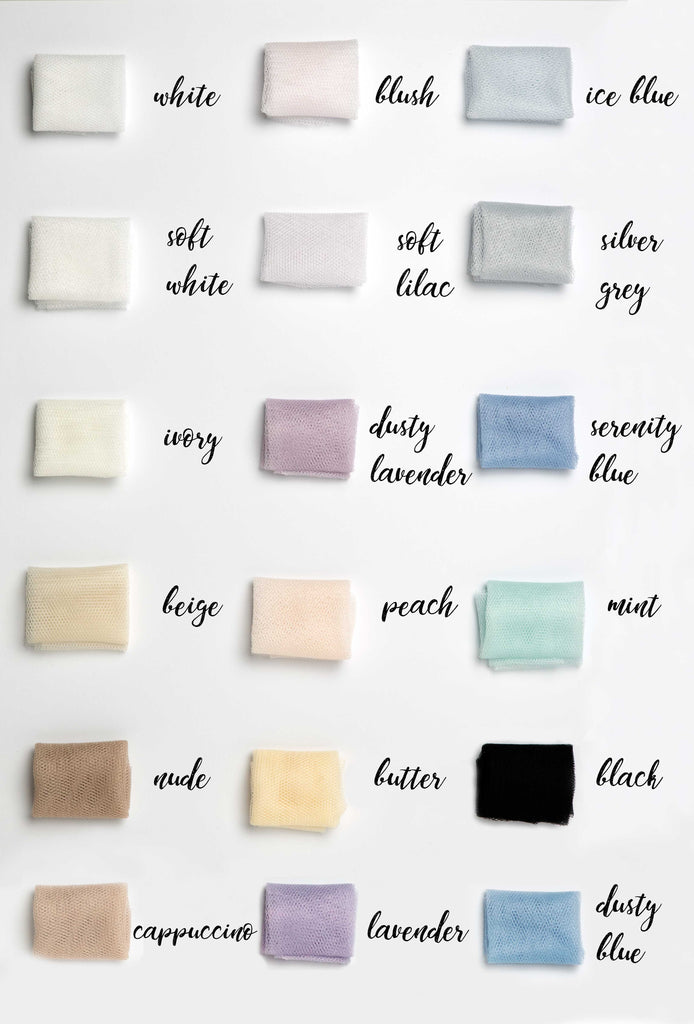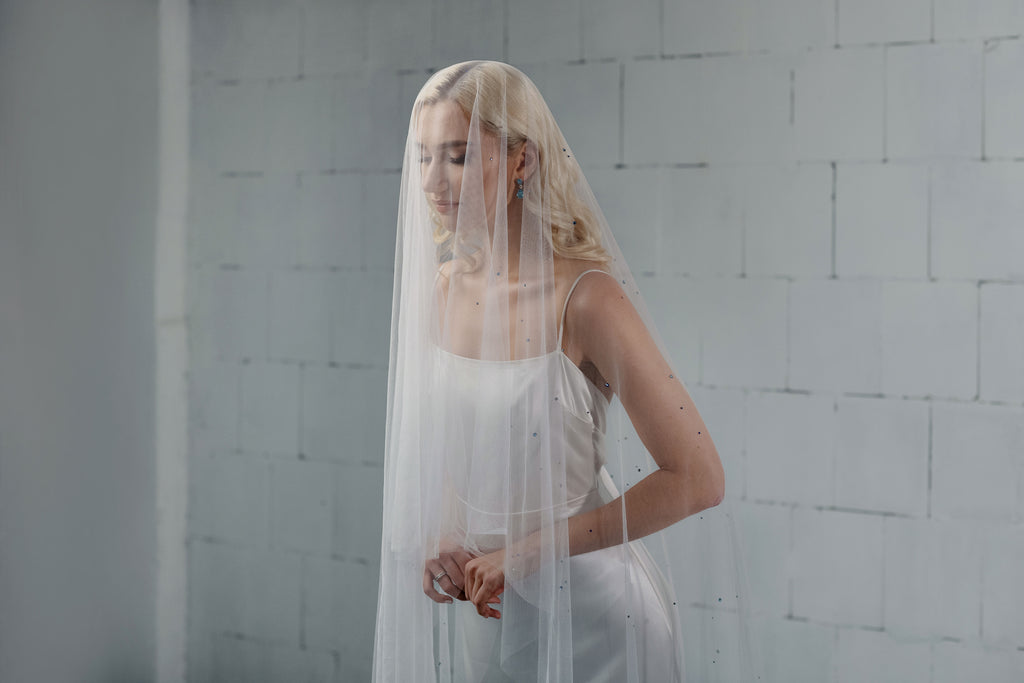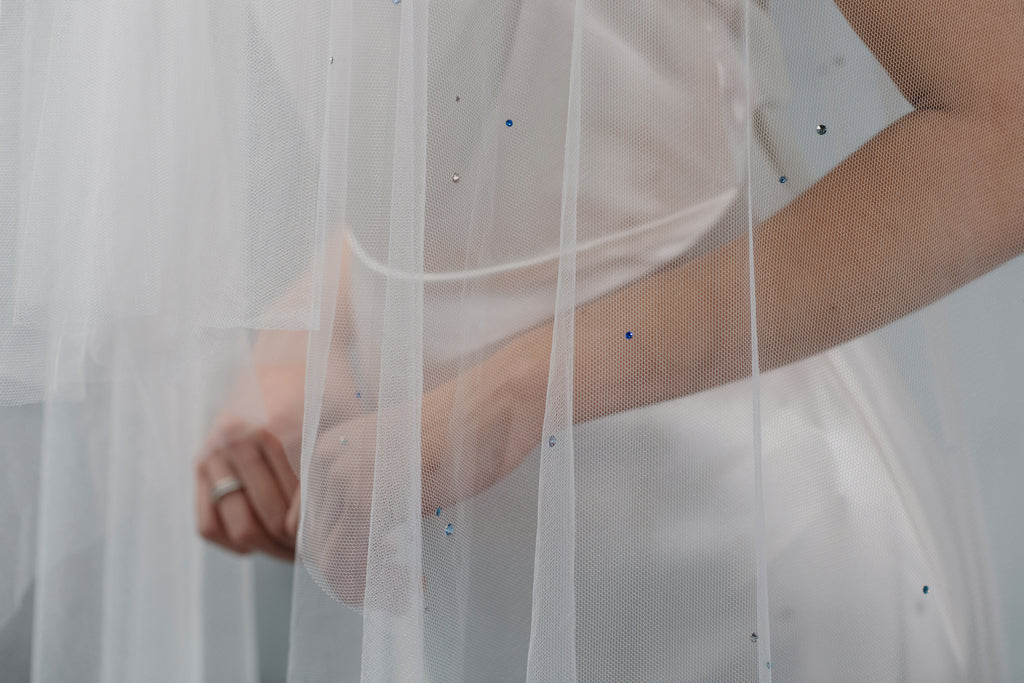 €70.00
€0.00
Crystal drop veil - RAIN
The crystal beaded drop veil is made with the finest quality soft English tulle. It features many shadows of blue Swarovski crystal details that capture the light in the most beautiful way and creates an effect of raindrops. This beautiful wedding veil will add the perfect finishing touch, complementing almost any gown.
This veil is made with high quality soft English tulle. This is a polyester blend which gives it its soft drape and handle. It's also very crease resistant, without the "puffiness" of bridal illusion tulle, which give it that lovely flowing quality. It has the same hexagonal construction as silk tulle, but without the price.
Drop veil have no gather at all and can be held in place by hairpins or sewn a comb. The blusher can be worn to the front or to the back, creating a two tier veil effect. 
Measures: available in all the traditional bridal veil lengths from waist to royal length. Shown in Chapel length (blusher 34 inches (86 cm) + Chapel 85 inches (215 cm)). Model height 5'10" ( 180 cm) and she with 4" heels. Veil wide: 71 inches (180 cm).
Color: can be white, soft white (in photo), ivory or any blue color from floraljewellery color palette. Crystal color: many shades of blue.
Crystals concentrated at the crown of the head and then lightly scattered down to the hem and sides of the veil with the lightest touch.
Each rhinestone is placed back-to-back, with the veil fabric sandwiched between. Because they have been applied to both sides of the veil (double-sided) there is no "wrong" side showing.
This veil is CUSTOM PIECE and is non-returnable. ORDERS are final sale. We strongly recommend purchasing tulle samples.
Used materials: soft English tulle, Swarovski crystals in blue shade.
5,8 cm metal comb or veil pins, Please add a note to me upon checkout to let me know your choice of comb/pins color.
The ends of the veil is cut into a raw gentle curve.
Packaging: carefully packed for safe shipping.
Ready to ship in 7 business days.
RUSH ORDERS: Please contact us if your situation requires shorter production times, we will do our best to help you. Message us with the style name, color and wear date and your location for further information.
**************************
Need S W A T C H E S ?
https://floraljewellerybridal.com/products/veil-fabric-swatches-fabric-samples-tulle-swatches
**************************
Standard wedding veil lengths
Waist length - 30" (76 cm) first tier, second tier 30" (76 cm), circular cut.
Fingertip length - 34" (76 cm) first tier, second tier 42" (107 cm), oval cut.
Ballet length - 34" (76 cm) first tier, second tier 55" (140 cm), oval cut.
Waltz length - 34" (76 cm) first tier, second tier 65" (165 cm), oval cut.
Floor length - 34" (76 cm) first tier, second tier 72"(183 cm), oval cut.
Chapel length - 34" (76 cm) first tier, second tier 85" (215 cm), oval cut.
Cathedral length - 34" (76 cm) first tier, second tier 108" (274 cm), oval cut.
Royal length - 34" (76 cm) first tier, second tier 118" (300 cm), oval cut.
You can also ask us about CUSTOM lengths and provide your own measurements for the front and back.
Different length may be chosen from drop down menu.
IMPORTANT: This veil fabric may not be suitable for you if your wedding dress is embellished with rhinestones, edged lace appliques, as the fabric is so lightweight it can catch on the little claws holding the edges of the stones in place. If your dress is embellished with beads and sequins it should be fine, as these generally have smooth edges.